Eyelid Lift for Men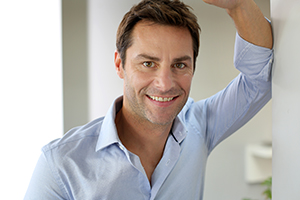 One of the most common complaints men make are the signs of aging that occur in the eye area. Loose droopy skin on the upper lid, fat bags on the lower eyelids, and a saggy brow can make a man look older, tired or even angry. Cosmetic eyelid surgery can remove the loose skin and excess fat to smooth the bags underneath the eyes. The result is a more rested, youthful and alert appearance. Dr. Joseph DiBello performs the upper lid tuck through a hidden crease incision avoiding visibility. For the lower eyelid in men, Dr. DiBello is versatile in the subciliary approach underneath the eyelashes, which some men may benefit from to tighten the lower eyelid skin, without changing the shape of the eye. If the brows are saggy, then an advanced technique of browlift may be recommended. Dr. DiBello then performs an endoscopic browlift, using small 1 inch hidden incisions behind the hairline. With extensive experience in numerous eye lift and forehead lift techniques, Dr. DiBello is able to recommend the best approach for you.
A consultation with Dr. DiBello will help you determine if you are a candidate for eyelid surgery/blepharoplasty. At that time, he will discuss what is involved in your personal surgical experience and the best technique for you to achieve a natural, more refreshed result.
Learn more about eyelid surgery.
To See These Procedures Animated, Click Here!