Facelift Surgery
(Rhytidectomy)
What is a Facelift?
Facelift surgery is a cosmetic procedure designed to restore a more youthful appearance by smoothing wrinkles, eliminating sagging skin, and reducing other signs of aging in the face and upper neck area.
Over time, the effects of gravity, exposure to sun, dry air, and general stress take a toll on an individual's face and neckline. Jowls can develop under the jawline with folds and fat deposits. Sometimes creases begin to form between the nose and the mouth.
A facelift can considerably reduce these signs of aging by removing excess fat, tightening the underlying muscles, and redraping the skin around the neck and face. Facelifts can be done alone, or frequently performed in conjunction with another procedure such as an endoscopic brow lift, eyelid surgery, or nose reshaping. If your problem areas are limited to the neck, a more conservative approach, known as a "neck lift" may be the procedure needed to achieve a more defined jawline.
Who is a Good Candidate for Facelift Surgery?
Individuals who wish to rejuvenate their facial appearance and are in good general health are typically considered good candidates for facelift surgery. There is no upper age restriction for this procedure; women and men of varying ages seek to reduce signs of facial aging with a facelift.
A consultation with Dr. Joseph DiBello, our experienced plastic surgeon, will help you determine if you are a candidate for a facelift. At that time, Dr. DiBello will discuss his personalized approach to your surgery as well as important considerations involved in facelift surgery. If it is determined that you are not a candidate for facelift surgery, Dr. DiBello can recommend a more appropriate treatment that can adequately address your concerns, such as BOTOX® Cosmetic and/or dermal fillers.
What Is the Best Age for a Facelift?
Most facelift patients are in their 40s, 50s, or 60s, which is when signs of aging typically become more prominent. However, age is not a requirement to be considered a good candidate, and patients older or younger can be eligible for a mini or full facelift. Everyone ages at a different rate and, as a result, the ideal age for facelift surgery will different from patient to patient. In general, the best time to consider a facelift is when you are unhappy with fine lines, wrinkles, and sagging skin, and non-surgical treatments no longer help you achieve the results you desire.
Which Facelift Technique Is Right For Me?
Dr. DiBello offers two different techniques for the facelift procedure: the mini facelift, also called the MACS lift (Minimal Access Cranial Suspension) or "S" lift, and the full SMAS facelift.
Mini Facelift
In the mini facelift procedure, tightening and lifting of the underlying muscular structures of the face, otherwise known as the SMAS layer, in the cheek areas is performed through small incisions placed discreetly in front of the ears. Ideal candidates for this procedure are looking for improvement in the cheek area above the neck, do not have a significant excess of loose skin, and have overall good tissue tone.
Full Facelift
SMAS, short for superficial musculoaponeurotic system, is a thin sheet of connective tissue and muscle in the mid and lower face, deep to the skin, and continuous with the platysma muscle of the neck. A full SMAS facelift not only involves tightening of the skin of the face and neck, but also repositioning and lifting of the underlying SMAS and platysma muscles. This provides a profound, longer lasting, but natural improvement in the contours of the cheek and neck areas.
How is the Facelift Procedure Performed?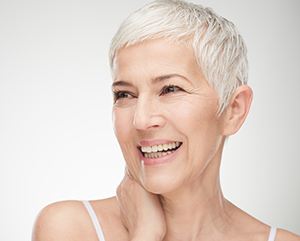 In the classic full SMAS facelift surgery, both the sagging skin and the underlying deeper tissues of the face and neck are targeted. Dr. DiBello will begin the incisions behind the hairline in the temple area that extend down in front of the ear (in front of the tragus in men, behind the tragus in women) and ultimately curve around the earlobe, blending into the hairline behind the ear. The SMAS layer is then tightened and lifted in the cheek area, eliminating the sagging along the sides of the mouth as well as the jowls. The removal of fat and smoothing of the structures of the neck and suspension of the neck is generally performed through a small incision beneath the chin as well as behind the ears. Excess, sagging skin is then trimmed and tightened until a natural contour is achieved. The full SMAS facelift surgery requires general anesthesia and is typically done at the hospital. In some cases, a facelift can reduce the outward signs of aging by ten or fifteen years.
As stated above, the mini, or MACS, facelift targets mainly the underlying deeper structures of the cheek (SMAS). Dr. DiBello accomplishes this by making a limited incision extending from the top of the ear at the hairline, passing down in front of the ear and ending at the earlobe. The skin is conservatively elevated and the underlying SMAS is then tightened. Limited trimming of the skin is then performed, if necessary. While this procedure could be done under local anesthesia, Dr. DiBello prefers to perform the procedure using IV sedation for improved comfort.
To see a visual representation of this procedure, please view our facelift 3D animation.
What is Recovery from Facelift Surgery Like?
While mini facelift procedures typically do not require overnight stay, to ensure optimal comfort and safety after your full SMAS facelift procedure, you will be admitted to the hospital overnight for consistent care. Dr. DiBello will return the next day to change your dressings and personally discharge you from the hospital. If necessary, he will also provide you with any additional information regarding your recovery period.
In the first few days after surgery, Dr. DiBello recommends resting with your head slightly elevated. Any discomfort can be managed well with prescribed medication. Some swelling and bruising is normal, but should subside in the weeks following surgery. You will need to wear a support garment for the first week, and as needed thereafter.
Based on your individual case, Dr. DiBello will provide you with specific guidelines that can minimize the chance of complications and ensure proper healing. However, in general, most patients are able to return to their regular routine and other light activities after two weeks—strenuous exercise and heavy lifting should be avoided for at least 4-7 weeks.
In your follow-up appointments, Dr. DiBello will check your progress to make sure you achieve an ideal outcome.
Will I Have Noticeable Facelift Scars?
The length and location of facelift scars can vary, depending on the technique employed—however, Dr. DiBello takes great care during all facelift procedures to ensure incisions are carefully placed in a way that results in scars that are typically unnoticeable.
In many cases, incisions are made within or along the hairline, making them easy to conceal, once healed. Some patients may also have a scar that extends down behind the ear, but this also typically remains inconspicuous by blending in with the natural crease of the ear. Regardless of your unique incision pattern, closely following Dr. DiBello's aftercare instructions can help scars heal and fade successfully.
During your consultation, Dr. DiBello will determine which surgical approach can effectively address your concerns and yield the best possible results. He can then create a personalized treatment plan and discuss specific incision options with you.
How Long Do Facelift Results Last?
Facelift results can be very long-lasting, but the longevity can vary from patient to patient, based on factors such as the surgical method used, as well as the patient's skin quality and efforts to maintain optimal skin health.
Individuals who have skin that has not lost too much elasticity typically experience longer-lasting results—however, using a daily moisturizer and other skin care products, as well as refraining from smoking can also help extend the lifetime of your results. Additionally, drinking plenty of water and eating a healthy diet can stave off the need for touch-ups or revisional surgery.
The technique your surgeon uses can also affect the longevity of your results—methods that only address loose skin typically do not yield results that last as long as a facelift performed with a more comprehensive approach that tightens underlying structures, as well.
Many facelift patients begin to notice the effects of facial aging approximately ten years (or more) after their initial surgery, but these effects can often be addressed with non-surgical treatments like BOTOX® Cosmetic, JUVÉDERM®, and Restylane®.
How Much Does a Facelift Cost?
The exact price of facelift surgery varies based on each patient's individualized treatment plan, but on average, Dr. DiBello's patients can expect to pay approximately $7,100 for a mini facelift (as an outpatient) and $10,500 for a full SMAS facelift (including overnight stay).
Please keep in mind that most facelift prices found online only provide an estimate for the surgeon's fee. The average cost noted above represents the total cost, which includes several factors, such as pre-admission testing, Dr. DiBello's fee, hospital facility fees, prescription medication, anesthesia fees, and more.
In your initial consultation with Dr. DiBello, he can conduct a thorough examination and create a customized treatment plan for you. Based on this plan, he will be able to provide you with a more accurate estimate for your specific case.
Can I Get a Facelift Without Surgery?
While a facelift provides the most comprehensive and longest-lasting improvement for facial aging, not everyone needs or is interested in undergoing this surgical procedure. For those wanting a non-surgical facelift alternative, Dr. DiBello offers a variety of cosmetic injectables, such as dermal fillers and BOTOX® injections, which can help smooth wrinkles, restore lost volume, and subtly lift sagging skin for a less invasive method of rejuvenation. If you would like to learn how non-surgical treatments can help you achieve a younger-looking appearance, Dr. DiBello can help you find the best treatment for your needs and preference during your consultation.
How to Choose the Best Facelift Surgeon
To ensure your safety and the most natural-looking results from facelift surgery, it is essential that you choose a qualified plastic surgeon to perform your procedure. The most important quality to look for when selecting a facelift surgeon is board certification by the American Board of Plastic Surgery (ABPS). This indicates the surgeon has completed at least six years of specialty training after medical school, has completed the rigorous exam process, and participates in continuing education every year. In addition, board-certified plastic surgeons like Dr. DiBello operate out of an accredited medical facility and demonstrate a commitment to patient safety and high-quality care.
Other factors to consider when researching facelift surgeons include their experience with facelift techniques, if they have before-and-after pictures you can view, and what patients have said about them in online reviews. If you ever feel unsure about a surgeon and their surgical abilities, you should keep looking until you find a physician who makes you feel completely comfortable.
Contact Us
To discover if you are a candidate for facelift surgery, please contact our office today to schedule a consultation with Dr. DiBello.