Dermal Fillers
What Are Dermal Fillers?
(Restylane®/Juvederm®)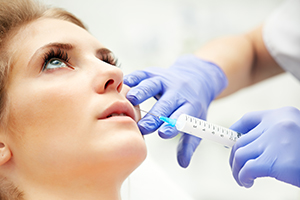 The various injectable dermal fillers in the JUVÉDERM® and Restylane® families are designed to temporarily fill wrinkles and folds, smooth and enhance the lips, and/or add volume to facial contours in patients over the age of 21. Each formulation is FDA-approved for a specific application and offers unique benefits and result longevity. 
Philadelphia plastic surgeon Joseph DiBello, MD customizes injectable dermal filler treatments for each patient, depending on his or her particular needs to achieve consistently superior aesthetic results. These treatments can be performed in areas involving the lower face, malar/cheekbone (cheeks), peri-oral (around the mouth), and lips. It is important to understand that injectable fillers cannot stop the process of aging; however, they can temporarily diminish the look of wrinkles, soft tissue depressions, and diminished volume. Dr. DiBello uses only the finest dermal filler products and injection techniques to provide patients with youthful, balanced results that boost confidence and accentuate natural beauty. His expertise with dermal fillers has earned him a reputation for excellence in complex facial rejuvenation treatment plans and in implementing leading-edge dermal filler applications with gorgeous results.
Injectable fillers may be performed as a singular procedure, in combination with other treatments, such as BOTOX® Cosmetic, or as an adjunct to a surgical procedure. In order to maintain the effect of injectable fillers over time, continuing treatments are necessary, as once products are injected they are slowly absorbed by the body. The length of effects for tissue filler injections is variable and can fluctuate based on each patient's unique treatment factors. 
What Is Hyaluronic Acid?
Hyaluronic acid is a naturally-occurring substance that is found within the human body. It is a material that is contained in various soft tissues. Hyaluronic acid can be synthetically produced from a process of bacterial fermentation, chemically stabilized, and purified for use as an injectable soft tissue filler (non-animal, stabilized hyaluronic acid). The hyaluronic acid in injectable fillers is biocompatible and is a totally non-animal product; there is little risk of animal-based disease transmission or allergic reaction. Hyaluronic acid is a hydrophilic agent, which means that it attracts water much like a sponge. This expansion contributes to the final volume that is achieved. 
Some of the next-generation filler products contain proprietary hyaluronic acid technology, such as Allergan's VYCROSS® technology and Galderma's XpresHAn Technology™, to create smoother, more flexible formulas and thus more aesthetically pleasing outcomes. Dermal filler products are also offered in versions that contain 0.3% lidocaine, in addition to the hyaluronic acid. Lidocaine is a local anesthetic added to these formulations to decrease the potential for discomfort at the injection sites.
JUVÉDERM® Fillers
JUVÉDERM® XC, JUVÉDERM® Ultra XC, and JUVÉDERM VOLLURE™ XC are used to smooth moderate to severe facial wrinkles and folds around the nose and mouth, or shape facial contours in adults. JUVÉDERM® Ultra XC and JUVÉDERM® XC typically last up to one year, while JUVÉDERM VOLLURE™ XC can last up to 18 months.
JUVÉDERM VOLBELLA® XC, and JUVÉDERM® Ultra XC have been FDA-approved for augmentation/enhancement of the lips and smoothing of perioral lines. Both products can last up to one year.
JUVÉDERM VOLUMA® XC injectable gel is indicated for deep, subdermal (subcutaneous and/or supraperiosteal) injection for cheek augmentation to correct age-related volume depletion in the mid-face region. This product can produce results that last up to two years.
Restylane® Fillers
Restylane-L®, Restylane® Refyne, and Restylane® Defyne are injectable wrinkle fillers FDA-approved for the correction of moderate to severe facial wrinkles, creases, and skin folds. Each of these products are injected at varying depths based on the patient's needs. Common treatment areas are the marionette lines and nasolabial folds. While Restylane-L® can last for 18 months, Restylane® Refyne and Restylane® Defyne typically lasts up to 12 months depending on where the injections are placed.
Restylane-L® and Restylane® Silk are approved to achieve lip augmentation and to smooth vertical lip lines (perioral lines) caused by aging and volume loss. Both of these products last about six months or more for most patients.
Restylane® LYFT is FDA-approved for cheek augmentation and correction of age-related midface contour deficiencies with results that can last for 12 months.
Which Dermal Filler Is Right for Me?
During your consultation, Dr. DiBello takes the time to listen to your concerns, thoroughly evaluate your needs, and examine your face to determine the products and techniques that can achieve your goals. Your dermal filler treatment plan will be completely customized to suit you!
Lips

Dr. DiBello utilizes JUVÉDERM VOLBELLA® XC for very conservative, less noticeable enhancement of the lips. If you are looking to add more volume to the lips and have more noticeable results, then he may recommend either Restylane®-L, Restylane® Silk, or  JUVÉDERM® Ultra XC. In either case, Dr. DiBello strives to provide you with the most natural-appearing enhancement of your lips. There is more swelling with lip injections (although much less with JUVÉDERM VOLBELLA® XC and more with Restylane® Silk) so you may feel self-conscious for the first 24 hours, depending on how much is injected. Juvederm® VOLBELLA XC and Restylane® Silk are additionally approved for the smoothing of perioral lines ("smoker's" or "lipstick" lines). If you have a history of herpes simplex I (HSV1 causes cold sores/fever blisters around the mouth) then you should consider antiviral prophylaxis. Let the office know beforehand and Dr. DiBello will discuss this with you.
Nasolabial Folds and Marionette Lines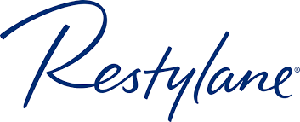 Dr. DiBello likes to use Restylane-L®, Restylane® Refyne, and JUVÉDERM® Ultra XC for shallower folds and lines, or for superficial layering in thinner tissues. Restylane® Refyne has the added potential of preserving natural expression in motion and may last a little longer. Dr. DiBello will recommend Restylane® Defyne, Restylane® Lyft,  JUVÉDERM VOLLURE™ XC, and JUVÉDERM® XC for deeper lines or folds, thicker skin, or deeper layering. Like Restylane® Refyne, Restylane® Defyne has the potential of movement with facial expressions thanks to Galderma's XpresHAn Technology™.
Cheek Augmentation and Malar Deficiency
Dr. DiBello uses both JUVÉDERM VOLUMA® XC and Restylane® Lyft to enhance the cheeks and correct age-related facial volume loss. Of these two products, Restylane® Lyft is not as thick/heavy, is more forgiving, and consequently yields less swelling. JUVÉDERM VOLUMA® XC is thicker/heavier to provide more predictable and noticeable enhancement of the cheeks and cheekbones, but tends to cause more swelling.
How Are Dermal Filler Injections Administered?
All dermal filler injections are performed in the office by Dr. DiBello himself, which means you benefit from his vast experience and expertise. Prior to administering any injections, a topical anesthetic or cold compress will be placed on the skin to desensitize the treatment area. Based on the product being used, the location of the treatment area, and the desired degree of correction/enhancement, Dr. DiBello will inject the necessary amount of product to the optimal tissue depth. Once the injections are complete, cold compresses can be reapplied to provide any relief from discomfort. You can apply makeup immediately and return to normal activities, but you should avoid exercise/exertion for four to six hours after treatment. After about three weeks, repeat "touch-up" injections may be desired to achieve an ideal result.
To See This Procedure Animated, click here!
Are There Any Side Effects from Dermal Fillers? 
It is possible to experience temporary swelling, redness, needle marks and/or bruising following dermal filler injections. These effects typically resolve after a few days' time and should not be cause for alarm. In cases of overfilling, small bumps may develop, which generally resolve themselves spontaneously or with the help of gentle massage.
How Much Do Dermal Fillers Cost?
The cost for your treatment with dermal fillers depends on the quantity of the product that is used, calculated per vial. Prior to your treatment, Dr. DiBello can provide you with an estimate for how much filler you will likely need to achieve your proposed goals. Pricing is as follows:
JUVÉDERM VOLBELLA® XC: $450 per 0.55ml tube and $600 per 1ml tube
Restylane-L®, Restylane® Silk,  JUVÉDERM® XC: $550 per 1ml tube
Restylane® Refyne/Defyne, JUVÉDERM VOLLURE™: $600 per 1ml tube
Restylane® Lyft: $650 per 1ml tube
JUVÉDERM VOLUMA® XC: $800 per 1ml tube
We also provide a $100 discount for each additional tube beyond the first tube ($50 for JUVÉDERM VOLBELLA®  0.55ml tube). Additionally, both Allergan® and Galderma® (the manufacturers of JUVÉDERM® and Restylane® respectively) offer loyalty programs that can generate discounts on injectables and other products.
If you are interested in learning more about how state-of-the-art dermal fillers can enhance your appearance and combat visible signs of aging, we invite you to contact us and schedule a consultation with Dr. Dibello to discuss your concerns and goals.