Facial Implant Surgery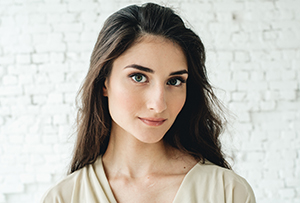 Facial appearance is determined by three basic components: the skin, soft tissues, and underlying bones or the facial skeletal structure. When facial structure is disproportionate (the chin recessed, jaw undefined, or cheeks flat) it can significantly affect not only how others see us, but also how we see ourselves. Defined facial features, visible contours, and natural angles that are proportionate, together create structural balance and a more attractive appearance. Facial implants are specially formed solid silicone that is compatible with human bone and tissue. They are designed to enhance or augment the physical structure of the face with natural-looking results. 
Plastic surgery with facial implants can produce a marked improvement in the underlying structure that forms a facial appearance, improving proportion and balance, as well as creating more distinct features. Although facial implants can improve the projection, shape or size of virtually any region of the face, three of the more common sites for facial implants include the chin, jaw, and cheek (or malar regions).
To learn more about procedures performed with facial implants, please explore the informative sections provided below or contact DiBello Plastic Surgery to schedule your personal consultation: 
Cheek Implants
Cheek implants, which are also referred to as malar Implants, can increase the projection of the malar regions to create shape and restore volume in the mid-face. They add volume to areas which may be recessed or flat, either due to genetics, aging, or other factors that cause cheek volume depletion. 
Chin Implants
Chin implants can increase the size and projection of a small or recessed chin, one that in profile does not project evenly with or beyond the forehead and mid-face. A small or recessed chin can also be described as one that seems to disappear into the neck of an individual of normal weight, rather than appearing as a distinct facial feature.
Jaw Implants
Jaw implants increase the width of the lower third of the face. Much like the chin, a weak jaw can be defined as one that is not well defined and distinct from the neck, or one that slopes rather than angles from the ear to the chin. In some cases, both the chin and jaw can contribute to facial imbalance.
After evaluating your goals and the features you wish to correct, our board-certified plastic surgeon—Dr. Joseph DiBello—will personally help you determine the precise type and size of implants best suited for you. Although we do not feature before-and-after images of our patients on this website, you will be able to view photographs of Dr. DiBello's facial implant work in the comfort and privacy of our office. This process allows you to see examples of the results that are possible with the procedure you are considering.
How Are Cheek, Chin, & Jaw Implants Placed?
Surgical procedures to place cheek, chin, and jaw implants are performed under general anesthesia in a hospital or surgery center, typically on an out-patient basis. Prior to the procedure, Dr. DiBello orders the implant(s) that are the right size, shape, and material to achieve the desired result. To begin the surgery, incisions for cheek implants are made either discreetly within the mouth or within the lower eyelid through which a pocket can be created for the implant and proper positioning of the implants can be achieved. Chin and jaw implants may be placed using incisions within the mouth or through a small incision in the skin under the chin. The implants may be anchored into place along the bone to prevent movement and deliver optimal, long-lasting results. Once Dr. DiBello is satisfied with the contour that has been achieved, the incision(s) can be closed. 
To See These Procedures Animated, Click Here!
What Does Recovery from Facial Implant Surgery Entail?
You can expect to experience some degree of swelling, soreness, and bruising following your facial implant surgery. These effects can be managed with analgesic medications, application of cold compresses, and by keeping the head elevated. Dr. DiBello will typically have chin and jaw implantation patients wear a support garment for a short period after surgery. You would need to maintain a soft diet and avoid excessive chewing for a week or two. Most patients are able to return to work and low-impact activities within a few days following surgery; however, each individual's healing progress is unique and Dr. DiBello can advise you on the right time to increase your activity levels. Typically, Dr. DiBello recommends avoiding vigorous exercise for at least the first few weeks of healing.   
What Do Cheek, Chin, & Jaw Implants Cost?
The average price ranges for facial implant procedures at DiBello Plastic Surgery are as follows:
Cheek Implants: $3,900 to $4,200
Chin Implants: $3,400 to $3,600
Jaw Implants: $3,900 to $4,200
These estimates include Dr. DiBello's fee, as well as the hospital/surgery center fee, anesthesia fees, and pre-admission testing. If you are interested in another type of facial implant not listed here, your cost can be quoted accurately during a personal consultation.
The exact price for your facial implant procedure will be calculated at the end of your consultation with Dr. DiBello based on the finalized custom treatment plan he designs and the exact size and style of implant(s) selected for your procedure. Our knowledgeable office team can explain your detailed quote, review accepted payment methods, discuss financing options, and answer any other questions you may have. Contact our office today to schedule your appointment!