Skin Care Products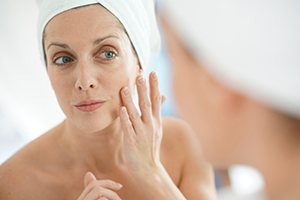 Our Philadelphia plastic surgeon emphasizes that glowing, youthful-looking skin begins with a daily regimen of high-quality, medical-grade skin care products. Ensuring that your skin is properly cleansed, moisturized, protected, and nourished each day is the foundation of looking your very best. At DiBello Plastic Surgery, Dr. DiBello and our team of skin care experts recommend only the very best skin care products to help you achieve and maintain healthy, gorgeous skin. These scientifically formulated products offer the latest in skin care innovation to slow visible effects of skin aging and shield against skin-damaging environmental factors.
Evaluating Your Skin
The most suitable products for you are based on a comprehensive skin evaluation performed by our skin care team. This analysis assesses the tone, texture, radiance, coloration, and hydration levels of your skin along with identifying any specific skin concerns you may be experiencing such as wrinkles, acne, rosacea, broken capillaries, etc. Based on the findings, our team can offer suggestions for a daily skin care routine, as well as suggest any specialty treatments (i.e. injectables, microdermabrasion, or chemical peels) and products that can address your unique skin challenges. In some cases, we may refer you to a trusted medical skin care treatment provider for services we do not offer in-house, such as laser treatments.
BioBare™ Skincare
While we do not currently carry a full line of skin care products at our practice, Dr. DiBello has partnered with BioBare Skincare and we sell their outstanding, skin rejuvenating Vitamin C, B, E, & Ferulic Serum in the office for your convenience. Dr. DiBello recommends the all-natural, cruelty-free BioBare Vitamin C, B, E, & Ferulic Serum because of the superior antioxidant protection it offers and the noticeable improvements he sees. He finds that the high-potency serum is an effective anti-aging product capable of smoothing fine lines and wrinkles, softening texture, and providing deeply saturating moisture for more youthful, supple, and radiantly glowing skin.
The extended BioBare Skincare line includes cleansers, toners, moisturizers, gels, serums, and vitamin C infused products, which can be mixed and matched to suit your skin needs. Products are packed with all-natural superfood ingredients, powerful antioxidants, soothing moisturizers, and other potent nutrients that are capable of revitalizing the condition of your skin.
Combining Medical-Grade Skin Care & Non-Surgical Skin Treatments
For patients who desire an optimal degree of skin and facial rejuvenation, medical-grade skincare products can be combined with injectable treatments (performed in-office by Dr. DiBello) that reduce the prominence of wrinkles and restore diminished volume. Dr. DiBello offers several botulinum toxin type A (BTXA) injectables—BOTOX® Cosmetic, Dysport®, and XEOMIN®—which relax the facial muscles that create dynamic wrinkles, erasing fine lines and creases for up to three to four months for most patients. Additionally, Dr. DiBello is a highly-skilled dermal filler injector and he offers a wide array of products that can temporarily fill wrinkles, creases, and depressions for a smoother appearance, as well as enhance facial contours, plump lips, and combat aging-related volume loss. After an evaluation of your facial appearance and skin, Dr. DiBello can create a customized injectable treatment plan and recommend a synergistic skin care routine aimed at achieving your aesthetic goals.
Do you have questions about skin care products? We invite you to contact DiBello Plastic Surgery and schedule a complimentary skin care evaluation with our experienced team. Let us help you explore which products and treatments can provide you with the improvements you desire.