Neck Lift Surgery
(Cervicoplasty/Platysmaplasty)
What Is a Neck Lift?
Neck lift surgery is a procedure designed to eliminate loose, sagging skin and excess fat in the neck, submental area (under the chin), and along the jawline—ultimately resulting in a smooth, attractive appearance.
Loose skin beneath the chin or jaw often becomes noticeable to individuals in their forties and fifties. Some signs of this natural aging process include a gradual appearance of cords or bands along the neck, which indicate a weakening of the platysma muscle. A lack of jawline definition and/or skin that hangs down along the neck, particularly just below the chin (often referred to as a "turkey neck" or "turkey wattle") are also common effects
Who Is a Good Candidate for a Neck Lift?
Women and men who experience loose, hanging skin or stubborn fat beneath their chin and/or along their neck and are in good overall health are typically considered good candidates for a neck lift. Individuals who wish to eliminate the appearance of a "double chin" can also benefit from this procedure.
Whether your neck is affected by age, sun damage, your genes, or the pull of gravity, neck lift surgery (cervicoplasty/platysmaplasty) or other neck contouring and rejuvenation procedures can give the jawline more definition. An elegant neck contour is not only associated with a youthful appearance, but also with health and vitality. Loose skin and excess fatty deposits under the chin and jaw can make even a person of normal weight appear to have a double chin. A neck lift offers a smoother and more toned appearance to skin under the chin and neck area that has lost elasticity.
In a consultation with board-certified plastic surgeon Dr. Joseph DiBello, patients can discover if neck contouring is right for them. Dr. DiBello also takes this time to explain his personalized approach, and ensures patients are well-informed about the procedure and any potential risks or limitations that may be involved.
How Is the Neck Lift Procedure Performed?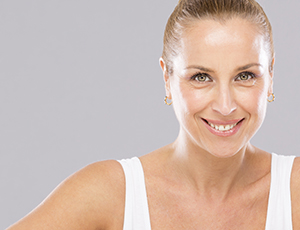 In a typical neck lift procedure, Dr. DiBello carefully places three small incisions—one behind each ear, as well as one beneath the chin. He then customizes treatment, depending upon your unique needs. For example, if you only have excess fat under your chin or along your jawline, neck, or submental area, liposuction alone may be enough to enhance the appearance of your neck. Even at a young age, hereditary fat deposits located underneath the chin may enlarge and lead to the appearance of a double chin. However, be aware that as we move into our forties and fifties most necks will require more than just liposuction alone and will typically require muscle and possibly skin tightening. When performing the neck lift alone, as opposed to part of a full facelift procedure, Dr. DiBello will usually perform tumescent liposuction along the jawline to minimize the jowls and provide a natural blending of the cheek and neck areas.
Ultimately, the neck lift procedure can provide patients with a more youthful and defined jawline via a recontouring of inelastic neck skin.
What Is Neck Lift Recovery Like?
Dr. DiBello's neck lift patients are typically able to return home (under the care of a family member or friend) after their procedure, but can opt to stay overnight at the hospital for round-the-clock care, if desired. Drains, when used, will be removed in the office typically in 3-4 days.  Patients are usually able to resume low-impact portions of their regular routine after about a week, but Dr. DiBello advises against strenuous activities for approximately four to six weeks. More specific instructions for your individual case will be provided prior to surgery.
To facilitate proper healing, you may be asked to wear a compression garment after your procedure. Some form of compression is required for the first week, and as needed thereafter. Dr. DiBello also recommends using cold compresses and keeping the head and neck elevated during the first few days of recovery.
Some minor bruising and swelling after a neck lift is normal, but these effects should gradually fade within about a week. Additionally, Dr. DiBello can prescribe medication to assist with any potential discomfort as you heal.
How Much Does Neck Lift Cost?
The average price of a neck lift at DiBello Plastic Surgery is about $6,300, but can vary according to your personalized treatment plan.
Please note: the price mentioned above includes several items that can impact the overall price of a neck lift. Most neck lift cost estimates available online only quote the surgeon's fee, whereas we have chosen to include other common expenses, such as hospital fees, pre-admission testing, Dr. DiBello's fee, anesthesia fees, prescribed medication, and more.
In your consultation, Dr. DiBello can provide you with a personalized price quote, based on your specific treatment plan.
Will I Have Neck Lift Scars?
As with any surgical procedure, there will be some form of scarring when incisions are being made. Dr. DiBello is experienced in performing neck lifts and understands that patients want potential scars to be as discreet as possible. During the procedure, Dr. DiBello is cognisant of your goals and will make incisions in areas that can be inconspicuous. Utilizing areas behind your ear and under your chin, entry point incisions can be hidden, boosting your overall appearance. You will be given a full rundown of your treatment benefits and expectations during your preoperative consultation.
Can I Get a Non-Surgical Neck Lift?
There are non-surgical alternatives to receiving a neck lift. However, Dr. DiBello recommends a surgical neck lift over any form of alternative care, due to the efficiency and overall benefits of the surgical procedure. A surgical neck lift typically produces more natural appearing results that have lasting effects for years to come, while the results of a neck lift without surgery are short-term and usually require regular touch-ups. Dr. DiBello will give you an entire overview of what our practice offers at your consultation.
Contact Us
To learn more about neck contouring options, or to schedule a consultation with Dr. DiBello, please do not hesitate to contact our office.