Ear Surgery
(Otoplasty)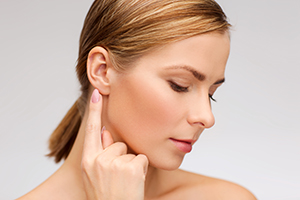 When prominent, protruding, or irregularly shaped ears create aesthetic concerns that affect self-esteem and confidence, plastic surgery techniques can reshape, repair, and/or reposition the ears for a more cosmetically pleasing appearance. These procedures can even be performed on young children to prevent teasing and self-consciousness that can negatively impact emotional well-being. Stretched, torn, and damaged earlobes can also be fixed with a variety of effective techniques. Dr. Joseph DiBello is experienced in the full spectrum of aesthetic ear surgeries and can determine the best approach for shaping your ears.
What is Otoplasty?
The specific plastic surgery technique called otoplasty, which is also referred to as ear pinning, is performed to correct protruding ears. It happens to be one of the few cosmetic surgeries performed on children. Otoplasty can be performed on one or both ears depending on the patient's needs. Generally speaking, there is a wide range of cosmetic and reconstructive ear surgeries that can improve the shape, position, or proportion of the ear. Certain techniques can correct a defect in the ear structure that is present at birth, that becomes apparent with development, or it can treat misshapen ears caused by injury. Other techniques can address deformities of the ear lobe, whether it be a torn earlobe from an earring pulling through or an enlarged hole caused by stretching (gauging), to restore a more natural contour.
The ultimate goal of otoplasty and other ear surgeries is to create a natural shape, while bringing balance and proportion to the ears and face. Correction of even minor deformities can have profound benefits to appearance and self-esteem.
Who Is a Candidate for Otoplasty?
Good candidates for otoplasty and other cosmetic ear surgeries can include healthy individuals with the following concerns:
Protruding or prominent ears
Asymmetrical ears
Ears affected by irregular development
Stretched, torn, or overly large ear lobes
Ears misshapen by trauma
As mentioned previously, otoplasty is often performed on children of a young age—typically around age 5 who have ear cartilage that is almost fully mature. A consultation with Dr. DiBello—our experienced plastic surgeon—will help determine if you or your child is a candidate for cosmetic ear surgery. At that time, he will discuss your personal concerns involved in the surgery. While we do not feature pictures of Dr. DiBello's patients on our website, you will have the opportunity to review many ear surgery before-and-after photos in the privacy of our office. While each patient and surgery is unique to the individual, Dr. DiBello can show you specific cases with characteristics that are similar to your own so that you can preview results that may be possible.
Repair of Torn, Stretched, or Enlarged Earlobes
Whether there is a partial (elongated hole) or complete tear of the earlobe, or an excessively stretched hole as a result of gauging, Dr. DiBello will employ the most appropriate approach for your specific deformity to reconstruct a natural-looking appearance. Earlobes that are disproportionately large and/or ptotic (sagging) since birth or due to aging, can also be repaired to restore balance and provide an improved contour. The scars from earlobe repair and recontouring surgery are usually quite small, and the procedures are performed by Dr. DiBello usually in the DiBello Plastic Surgery office under local anesthesia.
How Is the Otoplasty Procedure Performed?
Otoplasty and other cosmetic ear surgeries are typically performed under general anesthesia; however, in some adult cases sedation and local anesthesia may be appropriate. During otoplasty, an incision is made along the back side of the ear, hidden in the crease. The skin is pulled back to reveal the cartilage, which is then reshaped using the appropriate technique until the right contours and position are achieved. The incision is carefully closed with sutures to complete the procedure. Dr. DiBello performs otoplasty procedures on an outpatient basis at either an accredited surgery center, or at the hospital.
What Does Recovery from Otoplasty Entail?
Following otoplasty or another type of ear surgery, your ears will be bandaged for several days and you may be required to wear special elastic bandaging around both ears during sleep to keep them protected and properly positioned for several weeks. Some soreness is to be expected in the first few days; however, medication can help manage any discomfort. After a week, patients are usually able to return to low-impact activities. Dr. DiBello typically suggests refraining from vigorous exercise and exertion for a month. Recovery after earlobe repair/recontouring is much more straightforward—it involves an inconspicuous dressing placed over the stitches, and patients generally return to regular activity within 24 to 48 hours. You are permitted to wear clip on earrings after suture removal, but are advised to avoid re-piercing for three months.
How Much Does Otoplasty Cost?
Except in cases of acute injury or trauma, otoplasty and earlobe repair/recontouring surgery is considered cosmetic in nature, and is therefore not covered by insurance. On average, bilateral otoplasty will cost approximately $5,000.00. Unlike other prices quoted online, this cost not only includes Dr. DiBello's fee, but also the hospital/surgery center fee, anesthesia fees, and pre-admission testing. The total cost for uncomplicated, unilateral earlobe repair is approximately $950.00 in the DiBello Plastic Surgery office by Dr. DiBello. Uncomplicated, unilateral earlobe reduction surgery or gauged earlobe repair total cost, also in the office, is approximately $1,150.00. Pricing can vary widely since each patient and procedure is unique. If you would like to find out how much it would cost to improve the appearance of your ears with plastic surgery, we encourage you to schedule a consultation with Dr. DiBello to review the best options for achieving your goals. Based on the treatment plan Dr. DiBello proposes, our office team can present you with a detailed estimate for your surgery.