Liposuction/Body Contouring for Men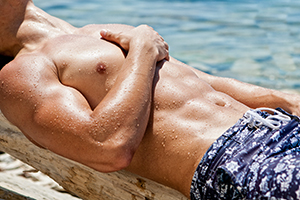 From GQ to Men's Health, one doesn't have to look far to see a magazine with a fit-looking man on the cover. As the societal standards for the male physique continue to rise, more men want a body that aligns with ideal masculine figure proportions and appears lean, toned, and athletic. The problem is that as men advance in the aging process, excess fat (that is resistant to dieting and exercise) becomes more likely to collect along the midsection, chest, chin, neck, and other areas, which can have a dramatic effect on the overall appearance. Thankfully, customized liposuction and other body contouring procedures performed by Dr. Joseph DiBello can help men combat these changes to achieve a trim, sculpted, and youthful-looking appearance.
Liposuction & Body Contouring Procedures
Often, liposuction techniques are all that is required to effectively remove and sculpt fat in key problem areas. Liposuction results typically benefit from the good skin elasticity and firm, vascular fat that men are able to retain later in life than women. If stretched, loose skin is a problem (along with stubborn  fat deposits), a more extensive surgical procedure that includes removal and tightening of skin may be indicated.
For men experiencing gynecomastia, a condition which describes breast enlargement in men, liposuction may be combined with excision of excess skin and/or dense glandular tissue in order to achieve the best possible result. The goal is to achieve a smooth, toned, masculine chest that is proportionate with the rest of the figure.
Abdominoplasty (Tummy Tuck) for Men
Despite abdominal exercises, such as sit-ups and intense aerobic workouts, there are often localized fat deposits that remain in the central and lower abdomen and flanks or "love handles" in males. Abdomen reduction may be a good course of action to take to achieve the desired result in the abdominal area. Men with good skin elasticity who have only a moderate amount of excess abdominal fat may benefit from liposuction alone; however, when stretched, loose skin and/or damaged musculature is present in the midsection, full tummy tuck surgery may be the best way to tighten, smooth, and recontour the region. The tummy tuck process is an intensive procedure that can combine excess fat removal, surgical tightening and repair of abdominal muscles, and excision of redundant skin to achieve more desirable waistline contours. Compared to liposuction, patients should plan for a longer recovery time after a tummy tuck.
Liposuction is not a substitute for a healthy diet and exercise, but the procedure can eliminate areas of fat that are unresponsive to typical weight-loss methods. A consultation with Dr. DiBello will help you determine if you are a candidate for liposuction. At that time, he will discuss what is involved in your personal surgical experience and the best technique for you to achieve a natural, toned result.
Learn more about liposuction and tummy tuck.
To See These Procedures Animated, Click Here.