Mini Tummy Tuck Surgery
(Mini Abdominoplasty)
What Is Mini Tummy Tuck Surgery?
Similar to traditional tummy tuck surgery, mini tummy tuck surgery (mini abdominoplasty) is designed to reduce excess skin on the abdomen, minimize fatty tissue volume, and tighten loose abdominal muscles (if needed). The difference between the two procedures is the scope of benefits. In a traditional abdominoplasty, the incision will be longer, and more of the abdominal region can be treated. In a mini abdominoplasty, only the area below the navel, or belly button, is addressed, and the incision is usually shorter. During your initial consultation, Dr. Joseph DiBello can determine if this procedure or a standard approach can give you the results you're looking for.
Who Is a Good Candidate for Mini Tummy Tuck Surgery?
Mini tummy tuck surgery only improves the appearance and contour of the abdomen below the belly button, so if you have significant skin laxity or excess fat above this area, which may be identified by wrinkling or "pooching," a full abdominoplasty may be a better option. Ideal patients will be in good overall health, maintain a stable weight that is healthy, and desire a firmer, flatter midsection below the navel. We also want you to have reasonable expectations for the outcome, and we will thoroughly discuss what can be achieved and what to expect at your first visit with our board-certified plastic surgeon.
What Happens During the Mini Tummy Tuck Procedure?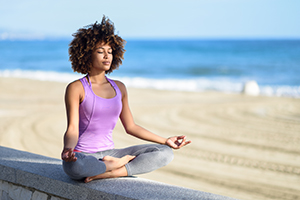 Dr. DiBello performs all his mini tummy tuck procedures at a fully-accredited local hospital under general anesthesia. An incision will be made low on your midsection near the pelvis in a location that should, once healed, be easily concealed by your clothing. The length of the incision will be determined based on your anatomic needs and cosmetic goals, and Dr DiBello will show you approximately how long the scar will be during your consultation. Generally, the size and location of the incision results in a scar similar to a C-section. After the incision, Dr. DiBello will trim away excess skin, use liposuction to contour the area, repair loose or torn muscles in the area, and redrape the abdominal skin. There is no need to reposition the belly button since all treatment will be performed below this point.
What Should I Expect During Mini Tummy Tuck Recovery?
While mini tummy tuck surgery is typically performed as an outpatient procedure, and most people can return home the same day as the operation, an overnight stay in the hospital is an option. Swelling, bruising, and some soreness are to be expected, and these effects should subside as you heal. Mini abdominoplasty often is less invasive than a traditional tummy tuck, so recovery may go more quickly. That said, it's important to let your body heal fully to achieve the best possible outcome. We will provide prescription medication to manage your pain and ensure your experience is as easy as possible. Most patients can return to work and normal daily activity after one to two weeks, although strenuous exercise should be avoided for at least four to six weeks, or as long as Dr. DiBello advises.
How Much Does Mini Tummy Tuck Surgery Cost?
The price of your mini tummy tuck surgery will depend on the complexity of your treatment plan, which techniques are used, and other individual factors. At DiBello Plastic Surgery, the cost range for a mini abdominoplasty procedure is approximately $7,100 to $8,000, depending on whether it is performed as an outpatient or with an overnight stay. When researching mini abdominoplasty prices, you may notice that most price quotes found online are solely representative of the surgeon's fee. The range provided above is inclusive of the overall cost of a mini tummy tuck, which consists of many variables—the surgeon's fee, hospital (or surgical facility) fees, pre- and post-operative medications, anesthesiologist fees, and more. To obtain a customized price quote, we encourage you to schedule a consultation with Dr. DiBello, so that you can have a better idea of what to expect. We want you to feel comfortable and confident in your choice, and we will provide an open and understanding environment for you to ask questions and to take the next steps to achieve your goals.