Facial Fat Transfer
What Is Facial Fat Transfer?
Facial fat transfer, also known as fat grafting or fat injections, is a facial rejuvenation treatment that redistributes excess fat in the body to improve facial volume and minimize wrinkles. This treatment can be performed on its own, or in combination with other procedures (such as a facelift or brow lift) to improve outcomes. Unlike most cosmetic injectables, fat injections use the patient's own fat for natural-looking results that last.
Facial fat grafting can reduce signs of aging by treating a variety of concerns, such as:
Deep tear troughs
Forehead wrinkles
Loss of volume in the lips, cheeks, and/or temples
A hollowed appearance around the eyes
"Marionette" lines
Board-certified plastic surgeon Dr. Joseph DiBello works with each of his patients to create a customized treatment plan designed to address their specific concerns and help them achieve their facial rejuvenation goals.
Who Is a Candidate for Facial Fat Transfer?
The ideal candidate for facial fat transfer will be in reasonably good health and have realistic expectations about the outcome of this procedure. Before moving forward with treatment, Dr. DiBello will meet with you in a consultation, during which the two of you can discuss your goals and medical history. If you have experienced drastic weight fluctuations, we advise you to share this with Dr. DiBello, as extreme changes in weight may cause the results of facial fat transfer to be unpredictable.
What Can I Expect During a Facial Fat Transfer Procedure?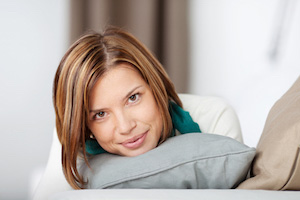 To perform facial fat grafting, the fat to be used in the procedure must first be removed from a donor site. This can be any area of the body with excess fat, but typical areas include flanks, thighs, or abdomen. The unwanted fat is removed via liposuction, then filtered and cleansed. Once the fat has been properly prepared, it is carefully injected into the areas of concern.
While small areas can safely be done under local anesthesia and oral sedation in the office, Dr. DiBello performs most facial fat grafting under either deep sedation or general anesthesia, and the procedure usually takes about one hour, but may vary depending on your unique treatment plan. Patients can usually return home later that same day (under the care of a family member or close friend), but if fat transfer is being combined with other procedures, it is possible you may need to stay overnight.
Is Facial Fat Transfer Safe?
When performed by a qualified plastic surgeon, facial fat transfer is generally considered a safe procedure. Many choose facial fat transfer over other types of injections because the fat injected into the body is their own, which effectively minimizes the possibility for any adverse reactions.
Nonetheless, the liposuction aspect of this treatment involves surgery, and every surgery comes with inherent risks. Facial fat transfer has been associated with hematoma (a bruise-like collection of blood under the skin), infection, or asymmetrical results; however, rest assured that Dr. DiBello carefully tailors each procedure to be as safe as possible, limiting the opportunity for these potential complications.
What Is Recovery Like After Facial Fat Transfer?
Patients may experience some mild discomfort after a facial fat transfer, but this can be managed well with prescribed medication. To help reduce swelling, Dr. DiBello advises patients to keep their head elevated for the first several days after the procedure. Additionally, patients might notice some numbness around the injection sites, but sensation should improve over the following weeks. Based on the location where fat was harvested, Dr. DiBello will provide you with additional post-operative instructions, if needed.
How Long Does Fat Transfer Last?
As swelling fades, the final results of facial fat transfer become more apparent, and are typically fully realized after a few weeks. Outcomes often continue to improve over time, as new fat cells can grow within the treated area. A small percentage of fat cells will naturally be reabsorbed into the body, but the fat that remains is permanent. Depending on your aesthetic goals, additional treatments may be recommended.
How Much Does Facial Fat Transfer Cost?
While a conservative facial fat transfer performed in the office under light anesthesia is approximately $3,500, on average most facial fat transfers performed at the hospital cost $4,000 – $6,000 at our practice, but this price can vary, depending on each patient's individual needs and expectations. Although this pricing includes a variety of factors that can affect the overall cost (hospital costs, anesthesia, surgeon's fee, etc.), Dr. DiBello can provide you with a more personalized price estimate in your consultation.
How to Find the Best Facial Fat Transfer Surgeon
Much of your procedure's success will depend on the skill and experience of the surgeon you choose. As such, we recommend you do extensive research before deciding on a surgeon. Your ideal surgeon must be certified by the American Board of Plastic Surgery (ABPS), which signifies the proper training, and it is certainly preferable that they maintain membership in organizations such as the American Society of Plastic Surgeons (ASPS) or the Aesthetic Society. It is also wise to verify that your plastic surgeon has privileges to perform surgery in fully accredited hospitals or surgery centers, as this ensures your surgeon has been properly vetted.
Dr. DiBello not only has extensive training in fat transfer for the face, but incorporates the technique into various other treatments, as well (e.g. a Brazilian butt lift or natural breast augmentation). In addition to his many qualifications and vast experience, he prioritizes his patients' safety and satisfaction, approaching each case with an attitude of compassion and caring. He aims to create a comforting environment for every patient he treats and encourages each patient to freely express any questions or concerns.
Contact Us
To learn more about the benefits of facial fat transfer and schedule a consultation with Dr. DiBello, please contact DiBello Plastic Surgery today.