Brow Lift vs. BOTOX® Cosmetic Brow Lift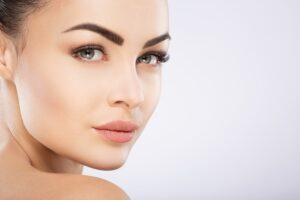 As we age, it's common for wrinkles and folds to appear in the forehead and eyebrow areas. These indentations can give off an appearance of stress, exhaustion, or anger. To combat these concerns, a surgical brow lift or non-surgical brow lift with BOTOX® Cosmetic can address the targeted areas and produce a refreshed, energized look. While both treatments aim to smooth the skin and restore a youthful appearance, there are differences between the two that patients should consider.        
A brow lift is designed to tighten the skin and underlying tissue in the upper region of the face while simultaneously improving the brow arch. Also known as a "forehead lift," this rejuvenating procedure targets sagging eyebrows, deep forehead wrinkles, and frown lines between the eyebrows. Often combined with a facelift, brow lift surgery can create a revitalized aesthetic with long-lasting results. 
A "BOTOX® Cosmetic brow lift" involves the use of BOTOX® Cosmetic, a botulinum toxin type A (BTXA) injectable that can be injected into the eyebrow area and forehead muscles. The solution in BOTOX® Cosmetic can temporarily relax muscles and keep them from contracting. As a result, signs of forehead creases and wrinkles can be reduced and smoothed out.
With that in mind, it's important to note that BOTOX® Cosmetic is not designed to elevate sagging eyebrows. It further differs from brow lift surgery in that it is a non-surgical, minimally invasive treatment that usually produces more subtle effects, and its results typically last between three and four months. As such, patients looking for more pronounced or prolonged effects may be better suited for a brow lift. 
At DiBello Plastic Surgery, board-certified plastic surgeon Joseph DiBello, M.D., F.A.C.S. is committed to providing patients with quality care. When it comes to facial rejuvenation, Dr. DiBello understands each patient's unique goals. To learn more about our cosmetic procedures and determine whether a brow lift or BOTOX® Cosmetic brow lift is right for you, contact our office to schedule a consultation. 
Previous Post
Next Post