Philadelphia Plastic Surgeon Addresses Liposuction Misconceptions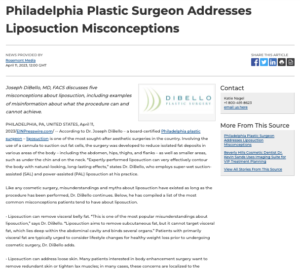 Philadelphia plastic surgeon Joseph DiBello, MD, FACS discusses five misconceptions about liposuction, including examples of misinformation about what the procedure can and cannot achieve.
Philadelphia, PA – According to Dr. Joseph DiBello – a board-certified Philadelphia plastic surgeon – liposuction is one of the most sought-after aesthetic surgeries in the country. Involving the use of a cannula to suction out fat cells, the surgery was developed to reduce isolated fat deposits in various areas of the body – including the abdomen, hips, thighs, and flanks – as well as smaller areas, such as under the chin and on the neck. "Expertly-performed liposuction can very effectively contour the body with natural-looking, long-lasting effects," states Dr. DiBello, who employs super-wet suction-assisted (SAL) and power-assisted (PAL) liposuction at his practice.
Like any cosmetic surgery, misunderstandings and myths about liposuction have existed as long as the procedure has been performed, Dr. DiBello continues. Below, he has compiled a list of the most common misconceptions patients tend to have about liposuction.
Liposuction can remove visceral belly fat. "This is one of the most popular misunderstandings about liposuction," says Dr. DiBello. "Liposuction aims to remove subcutaneous fat, but it cannot target visceral fat, which lies deep within the abdominal cavity and binds several organs." Patients with primarily visceral fat are typically urged to consider lifestyle changes for healthy weight loss prior to undergoing cosmetic surgery, Dr. DiBello adds.
Liposuction can address loose skin. Many patients interested in body enhancement surgery want to remove redundant skin or tighten lax muscles; in many cases, these concerns are localized to the abdomen, says Dr. DiBello. Although these goals are not attainable with liposuction alone, Dr. DiBello is often able to combine liposuction with tummy tuck surgery or another skin tightening procedure to firm and sculpt these treatment areas.
Liposuction is a quick way to lose weight. Dr. DiBello encourages patients to understand that liposuction is not a weight loss procedure. "Rather, the ideal candidate for liposuction is at a reasonably healthy weight, and simply wishes to reduce buildups of localized fat," he states.
Liposuction can get rid of cellulite. While patients with large fat deposits often wish to combat cellulite, this is not possible with liposuction, says Dr. DiBello. "Cellulite is the result of adipose tissue pushing against fibrous connective tissue, causing 'dimples' or skin depressions," he explains. "Liposuction was designed to remove fat cells, but it cannot remove fibrous tissue."
Liposuction is a female-specific procedure. "Although some believe that body enhancement surgery is only for women, this is not the case," states Dr. DiBello. "We frequently recommend liposuction for male patients who want to address belly fat deposits, reduce symptoms of gynecomastia, or otherwise enhance their appearance."
Moreover, Dr. DiBello emphasizes the importance of patient-physician communication. "If a patient is unsure about liposuction, they should feel comfortable discussing their concerns with a qualified plastic surgeon," he says. Dr. DiBello concludes that a consultation with a board-certified plastic surgeon is a necessary first step in gaining a better understanding of what liposuction can and cannot achieve.
About Joseph DiBello, MD, FACS
Dr. Joseph DiBello is an award-winning plastic and reconstructive surgeon with over thirty years in practice. The Chief of the Division of Plastic Surgery at Jeanes Hospital, Dr. DiBello is a Fellow of the American College of Surgeons, a Diplomat of the American Board of Plastic Surgery (ABPS), and a member of several professional boards and organizations. He is known for his conservative, patient-focused approach to cosmetic surgery, and offers popular options like liposuction, facelift surgery, and breast lift surgery at his Philadelphia practice. Dr. DiBello is available for interview upon request.
For more information about Dr. DiBello, please visit drdibello.com and facebook.com/drdibello.
Contact:
DiBello Plastic Surgery
2361 Huntingdon Pike, Suite 1
Huntingdon Valley, PA 19006
(215) 947-4990
Rosemont Media
(800) 491-8623
www.rosemontmedia.com
Previous Post
Next Post