Breast Augmentation Recovery Tips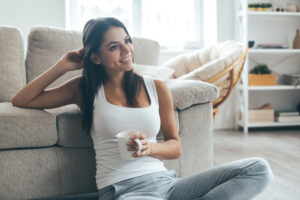 Every breast augmentation patient desires a smooth recovery, optimal healing, and beautiful results. According to one of Philadelphia's top board-certified plastic surgeons—Joseph DiBello, MD, FACS—closely following post-operative care instructions and preparing for your recovery before surgery can help prevent complications and support proper healing. To help you navigate the breast augmentation recovery process, Dr. DiBello shares some important tips for your post-operative healing period.
Set aside time to recover – After surgery, you'll need lots of rest and relaxation to aid in proper healing. Patients typically clear their schedules or take time off from work for at least a week. Most patients are able to return to their usual, non-strenuous activities within two weeks. Make sure to listen to your body and rest when needed, as overexerting yourself after surgery can impede your ability to heal optimally.
Get help from family and/or friends – In addition to requiring a ride to and from your surgery, you can benefit from further assistance during the first few days of your recovery. You'll be sore, unable to drive, and tired, as well as unable to lift heavy objects and children—so Dr. DiBello recommends enlisting friends and family to provide help with meals, rides, childcare, errands, or just some friendly company.
Prepare your home before surgery – Prior to your surgery, it is a good idea to set up a comfortable recovery area and make sure you have everything you might need for the first few days. If you have a multi-story home, make sure you won't have to climb any stairs while you are recovering. Patients often take this opportunity to gather plenty of pillows and blankets, arrange their medications, set up entertainment, put cold packs in the freezer, and load up on groceries.
Fill your prescriptions – Visit the pharmacy to get all of your prescriptions filled prior to surgery so that they are waiting for you at home after your procedure. Even if you think you may not require any pain medication, it is good to have it on hand in case you end up needing it.
Follow all post-operative care instructions – The best way to ensure you are doing everything right after your procedure is to adhere to Dr. DiBello's detailed post-operative instructions regarding medications, wound care, and more. If you ever have questions about what you should do in a given situation or are concerned about symptoms you're experiencing, feel free to contact our office for guidance. Additionally, make sure you attend all follow-up appointments with Dr. DiBello so that he can closely monitor your healing progress.
It is important to note that every breast augmentation procedure is unique and each patient's rate of recovery is also unique to the individual. If you are considering breast augmentation, have recently undergone breast augmentation, or just have questions about the recovery process, our team at DiBello Plastic Surgery can provide the information you are looking for.
To schedule a breast augmentation consultation with Dr. DiBello, please contact DiBello Plastic Surgery.
Previous Post
Next Post