BBL & Natural Breast Augmentation Requests Increase for Philadelphia Plastic Surgeon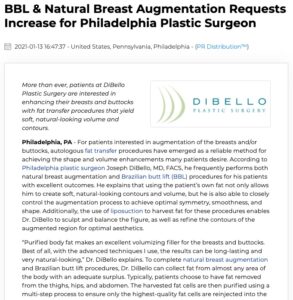 More than ever, patients at DiBello Plastic Surgery are interested in enhancing their breasts and buttocks with fat transfer procedures that yield soft, natural-looking volume and contours.
Philadelphia, PA – For patients interested in augmentation of the breasts and/or buttocks, autologous fat transfer procedures have emerged as a reliable method for achieving the shape and volume enhancements many patients desire. According to Philadelphia plastic surgeon Joseph DiBello, MD, FACS, he frequently performs both natural breast augmentation and Brazilian butt lift (BBL) procedures for his patients with excellent outcomes. He explains that using the patient's own fat not only allows him to create soft, natural-looking contours and volume, but he is also able to closely control the augmentation process to achieve optimal symmetry, smoothness, and shape. Additionally, the use of liposuction to harvest fat for these procedures enables Dr. DiBello to sculpt and balance the figure, as well as refine the contours of the augmented region for optimal aesthetics.
"Purified body fat makes an excellent volumizing filler for the breasts and buttocks. Best of all, with the advanced techniques I use, the results can be long-lasting and very natural-looking," Dr. DiBello explains. To complete natural breast augmentation and Brazilian butt lift procedures, Dr. DiBello can collect fat from almost any area of the body with an adequate surplus. Typically, patients choose to have fat removed from the thighs, hips, and abdomen. The harvested fat cells are then purified using a multi-step process to ensure only the highest-quality fat cells are reinjected into the treatment areas. For long-term survival, the injected fat must receive adequate blood supply, and Dr. DiBello says this is one of the reasons it is so important to choose a board-certified plastic surgeon with advanced training and experience performing fat transfers. "Not only do you want a plastic surgeon with the artistic abilities necessary to create desirable results, but you also want a surgeon with the technical skills and scientific knowledge to safely deliver fat transfer results that can last."
In addition to performing natural breast augmentation solely with transferred fat, Dr. DiBello also offers combination procedures that include both the placement of breast implants and fat transfers. The addition of fat allows Dr. DiBello to soften the appearance of the implants and further enhance the shape and contours of each breast. According to Dr. DiBello, "Patients are typically very satisfied with the results of breast enhancement with implants and fat. Overall, the outcomes are softer and more natural-looking than can be accomplished with implants alone."
Currently, demand for procedures like BBL and natural breast augmentation is quite high and Dr. DiBello enjoys seeing his patients so pleased with their new curves. "Whether patients desire a subtle change or noticeable shape and volume, autologous fat transfer offers the flexibility and control necessary to achieve a variety of treatment goals," says Dr. DiBello. But he adds that, "Patients must have sufficient excess fat to accomplish their goals. The best way to determine if fat transfer is the right approach is to schedule a consultation to evaluate candidacy and identify the degree of enhancement that is possible."
About Joseph N. DiBello, Jr., MD, FACS
Dedicated to providing patients with the safest and most effective treatment possible, Dr. DiBello believes in being extremely selective with the techniques and technology used at his practice, from breast augmentation to liposuction, non-surgical options, and more. Dr. DiBello is board-certified by the American Board of Plastic Surgery (ABPS) and is also an active member of several prestigious medical organizations, including the American Society of Plastic Surgeons (ASPS) and the American Society for Aesthetic Plastic Surgery (ASAPS). In addition to his private practice—DiBello Plastic Surgery—Dr. DiBello serves as an adjunct Clinical Assistant Professor in the Department of Surgery at Temple University's School of Medicine and is Chief of the Division of Plastic Surgery at Jeanes Hospital. He is also on staff at both Holy Redeemer Hospital and Fox Chase Cancer Center.
To learn more about Dr. DiBello and his practice, please visit drdibello.com and facebook.com/drdibello. Dr. DiBello is available for interview upon request.
Contact:
DiBello Plastic Surgery
2361 Huntingdon Pike, Suite 1
Huntingdon Valley, PA 19006
(215) 947-4990
Rosemont Media
(858) 200-0044
www.rosemontmedia.com
Previous Post
Next Post