Male Rhinoplasty vs. Female Rhinoplasty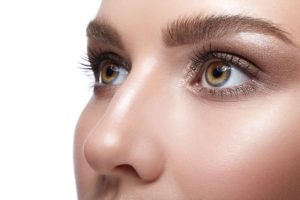 The overall goal of rhinoplasty, whether it's being performed on a man or a woman, is to create a nose that is more proportional to the rest of the face and harmonizes with the facial features for a more aesthetically pleasing overall look. Patients seeking rhinoplasty typically have specific concerns about the appearance of their nose and desired aesthetic in mind, all of which is discussed with their plastic surgeon during an initial consultation. When patients considering rhinoplasty visit plastic surgeon Joseph DiBello, MD, he listens attentively to what the individual wants to change about their nose, performs a comprehensive examination, and develops a surgical plan aimed at delivering a natural-looking outcome that enhances the facial appearance and boosts self-confidence.
The techniques used to accomplish rhinoplasty are largely similar for men and women; however, there are distinct aesthetic preferences to consider when Dr. DiBello is planning this highly customized procedure for men vs. women. Often, women are most concerned with creating a more delicate-looking nose with a narrowed bridge, while men desire to maintain a more prominent bridge for a distinctly masculine look. Variation is also notable when it comes to the angle of the nasal tip. For women, a slightly upturned nasal tip can create a feminine aesthetic, while a nasal tip angled at 90 degrees from the upper lip (a straight angle) achieves a more distinguished nose shape that men prefer.
Choosing a board-certified plastic surgeon experienced in complex facial plastic surgery procedures like rhinoplasty is the key to achieving a satisfying result. It is recommended that you review before-and-after photos of a plastic surgeon's rhinoplasty work to determine if he or she is the right surgeon for you. In the comfort of the DiBello Plastic Surgery office, you have the opportunity to see photos of patients with similar aesthetic concerns as yours and review the outstanding results that Dr. DiBello was able to achieve for them.
Want to learn more about how rhinoplasty can enhance your appearance? We welcome you to contact DiBello Plastic Surgery and schedule an appointment.
Previous Post
Next Post