Surgical vs. Non-Surgical Facial Reshaping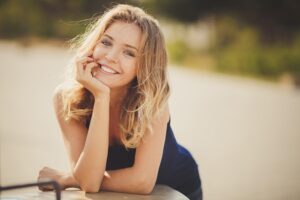 In a facial reshaping procedure, the volume of your face is enhanced to attain a fresher, more youthful look. There are several ways for a surgeon to reshape the face, but board-certified plastic surgeon Dr. Joseph N. DiBello, Jr. is a firm believer in the use of facial fat transfer. This routine surgical procedure uses fat extracted from your own body to restore volume and achieve a fuller, more revitalized look. The results of this procedure are designed to be long-lasting and aesthetically pleasing. In addition, our experienced plastic surgeon offers other methods of facial reshaping, all of which have brought exceptional results to countless patients.
Facial Fat Transfer
Facial fat transfer, also known as "fat grafting," has produced the most substantial results of all the facial reshaping procedures we offer. Dr. DiBello recommends this method of treatment for several reasons:
Facial fat transfers utilize your body's own fat, eliminating the need for synthetic substances. As such, the result is a generally smoother, more natural effect.
The procedure can improve a variety of perceived imperfections, such as volume loss, wrinkles, marionette lines, and more. 
While a facial fat transfer is a surgical procedure, the surgery is usually done quickly and without hassle. In fact, the actual procedure usually lasts about an hour, depending on the amount and number of areas treated.
The effects of a fat transfer are long-lasting.  While some of the transferred fat will be naturally absorbed by the body during healing, the fat that remains is permanent, unlike dermal fillers which are temporary.  
Many patients consider the liposuction aspect of the procedure an added bonus; in addition to smoothing out creases in the face, potentially unwanted fat is removed from the body, as well. 
Facial Implants 
Although facial fat grafting is the preferred method for facial reshaping, Dr. DiBello utilizes facial implants for the cheek, chin, or jaw in certain cases. For each of these, the silicone implant that is placed fills out the corresponding area of the face. Implants are designed to restructure the unique curves and angles of your face, providing a more desirable shape.
Dermal Fillers 
Dermal fillers, composed of chemically-stabilized hyaluronic acid, are designed to smooth out wrinkles, lines, and other marks of aging on the face. The naturally-occurring substances within the product bind together the water and collagen in your skin, the result of which is meant to be a healthy, hydrated glow. While dermal fillers are a non-surgical procedure, they are also temporary, with results typically lasting around a year.
Our practice is proud to use JUVÉDERM® and Restylane®, two of the most effective FDA-approved fillers on the market. We use the following products for these specific procedures:
For cheek augmentation, we implement either JUVÉDERM® Voluma injectable gel,  Restylane® Contour, or  Restylane® LYFT, each of which is designed to reduce signs of aging in the mid-face region. 
Chin augmentations are either performed with JUVÉDERM® Voluma or another Restylane® product, Defyne. Both products enhance the sturdiness of the chin, improving the symmetry of the overall face.
As everyone's body chemistry differs, your results may vary, and Dr. DiBello is always glad to help you decide which product is right for you.
While we advocate for facial fat transfers because of the superior results they provide, we understand that each patient has individual needs when it comes to facial reshaping. Dr. DiBello will answer any specific questions during your consultation. If you are curious about which method is right for you, we encourage you to schedule a consultation today. 
Previous Post
Next Post