What Is the Difference Between a Buttock Lift and BBL?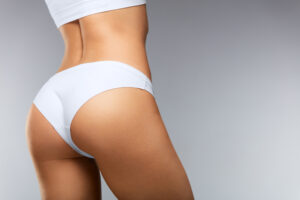 Our board-certified plastic surgeon, Joseph DiBello, MD, offers two different types of buttock enhancement procedures—buttock lift surgery and the Brazilian butt lift. It is common for patients to inquire about which procedure would be most effective for achieving the results they desire. This blog will provide a general explanation of each procedure so that you can gain an better understanding of who may be a good candidate and what each option can accomplish:
Buttock Lift – The buttock lift procedure, also called a gluteal lift, is typically best suited for individuals who have experienced a loss of buttock volume and/or tone combined with the development of loose, excess skin in the region. Aging, significant weight fluctuations, sun exposure, and genetics can all play a role in creating sagging in the buttock area. During buttock lift surgery, Dr. DiBello makes an incision along the upper contour of the buttocks, allowing him to lift the buttocks, remove excess skin, and create smoother, tighter contours. For individuals who desire additional volume, a buttock lift may be combined with fat transfers to create more projection and an enhanced shape.
Brazilian Butt Lift (BBL) – The Brazilian butt lift is a gluteal fat grafting procedure that utilizes excess fat collected from other areas of the body to add buttock volume and projection, and/or perfect overall shape and symmetry. BBL is typically most suitable for individuals that have good to moderate skin elasticity and adequate fat to accomplish the transfers. The BBL procedure can consistently create results that are smooth, toned, lifted, shapely, and balanced with the overall figure.
If you are considering buttock enhancement and want to learn more about the procedures Dr. DiBello performs, please contact DiBello Plastic Surgery to schedule your personal consultation.
Previous Post
Next Post