Philadelphia Plastic Surgeon Has Been Part of Temple University's Clinical Faculty for 20 Years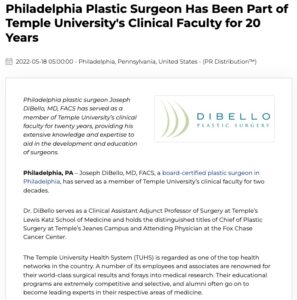 Philadelphia plastic surgeon Joseph DiBello, MD, FACS has served as a member of Temple University's clinical faculty for twenty years, providing his extensive knowledge and expertise to aid in the development and education of surgeons.
Philadelphia, PA – Joseph DiBello, MD, FACS, a board-certified plastic surgeon in Philadelphia, has served as a member of Temple University's clinical faculty for two decades.
Dr. DiBello serves as a Clinical Assistant Adjunct Professor of Surgery at Temple's Lewis Katz School of Medicine and holds the distinguished titles of Chief of Plastic Surgery at Temple's Jeanes Campus and Attending Physician at the Fox Chase Cancer Center.
The Temple University Health System (TUHS) is regarded as one of the top health networks in the country. A number of its employees and associates are renowned for their world-class surgical results and forays into medical research. Their educational programs are extremely competitive and selective, and alumni often go on to become leading experts in their respective areas of medicine.
According to Dr. DiBello, his position in the General Surgery department at the Katz School of Medicine has involved assisting with and supervising several surgical procedures. These surgeries include cosmetic procedures, such as breast augmentation and liposuction, reconstructive surgeries on the hands and limbs, and other intricate operations. Dr. DiBello states that by working among such powerful academic and medical minds and sharing his surgical prowess with colleagues and residents, he has been able to grow as a medical professional himself. "I am honored to be a part of this exceptional institution," he says. "Serving my community and training budding surgeons have been the highlights of my career."
About Joseph DiBello, MD, FACS
An award-winning plastic and reconstructive surgeon in Philadelphia, Dr. DiBello performs each surgery with integrity and transparent patient communication. He is a member of numerous prestigious boards and organizations, not limited to the American Society of Plastic Surgeons (ASPS), The Aesthetic Society (formerly known as the American Society for Aesthetic Plastic Surgery, or ASAPS), and the Robert H. Ivy Society of Plastic Surgeons. A self-described "conservative plastic surgeon," Dr. DiBello only utilizes surgical techniques and methods that have been proven safe and effective. He personalizes each procedure to provide patients with unparalleled results, offering a comprehensive array of surgical and non-surgical treatments, including rhinoplasty, eyelid surgery, breast enhancement, fat injections, and more.
For more information about Dr. DiBello, please visit drdibello.com and facebook.com/drdibello. Dr. DiBello is available for interview upon request.
Contact:
DiBello Plastic Surgery
2361 Huntingdon Pike, Suite 1
Huntingdon Valley, PA 19006
(215) 947-4990
Rosemont Media
(800) 491-8623
www.rosemontmedia.com
Previous Post
Next Post