5 Questions to Ask Your Plastic Surgeon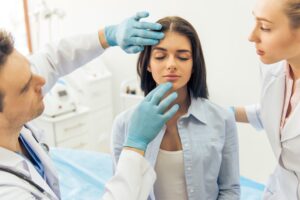 Because the decision to undergo plastic surgery can be life-changing, it is imperative that the surgeon you choose is highly qualified. That said, what qualifications are necessary? How do you ensure that you are putting your surgery in the hands of a respectable and ethical medical professional?
Thankfully, there are questions you can ask your surgeon to help you determine not only whether they are a reputable surgeon, but whether they are a good fit for your needs and goals. Our board-certified plastic surgeon, Joseph DiBello, MD, advocates for patients to meet one-on-one with their prospective surgeons to ask them these essential questions:
Are you certified by the American Board of Plastic Surgery (ABPS)?
This should be the first question you ask. While a surgeon who is not certified by the ABPS may still be allowed to perform plastic surgery, those with this certification are held to the highest standards in the industry. Board-certified plastic surgeons will have undergone years of specialized training and obtained specific knowledge and experience performing these types of procedures. An ABPS-certified surgeon is also required to practice continuing education in order to stay informed on the latest techniques and technology.
Do you perform surgeries in safe, accredited hospitals and facilities?
Part of a surgeon's commitment to the ABPS is that they must only perform surgeries in accredited facilities or health centers. These hospitals must meet strict guidelines for safety and cleanliness, and the staff must adhere to a stringent ethical code of standards. Furthermore, choosing an ABPS-certified plastic surgeon who only operates in fully accredited facilities increases your chances of a successful procedure.
Where were you trained and educated?
Before choosing a surgeon, we recommend that you conduct extensive research on his or her background. In addition to their accreditations and affiliations with distinguished boards and memberships, look carefully at their education and training. Do they hold degrees from legitimate educational institutions? Did they study and serve fellowships at established universities and hospitals?
Do you specialize in/have extensive experience performing the surgery I want?
While choosing a surgeon who specializes in your ideal procedure can be an advantage, a broad range of knowledge and track record of satisfied patients is even more important. For instance, even if your surgeon does not claim to be a breast augmentation specialist, he or she has very likely performed countless augmentations and therefore may still be an excellent choice. Dr. DiBello advises patients to make sure their surgeon is well-versed in the treatment and up-to-date on the safest, most effective methods.
Do you have patient testimonials and before-and-after photos to show me?
A one-on-one meeting with your surgeon gives you the opportunity to get to know one another. The doctor should have access to your medical history and requirements, and you will be able to question them about past surgical results. Photos and patient reviews can give you a clearer idea of your surgeon's typical results and techniques, and even provide insight into what they are like as a person. Look for reviews that indicate your surgeon is compassionate, kind, and attentive to his or her patients' needs and concerns.
Philadelphia surgeon Joseph DiBello, MD, FACS is a board-certified plastic surgeon who is known for his attention to detail – both in his surgical endeavors and interactions with patients. He is famously compassionate and treats each patient as an individual, personalizing each treatment around their specific requests. At our practice, he offers the full breadth of cosmetic procedures — including, but not limited to liposuction, facelift, tummy tuck, and breast enhancement.
Dr. DiBello would love to meet you and discuss your aesthetic goals! Feel free to contact us and schedule your consultation today.
Previous Post
Next Post