Philadelphia Plastic Surgeon Offers Extended Mini-Abdominoplasty for Select Patients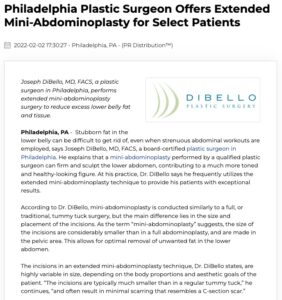 Joseph DiBello, MD, FACS, a plastic surgeon in Philadelphia, performs extended mini-abdominoplasty surgery to reduce excess lower belly fat and tissue.
Philadelphia, PA – Stubborn fat in the lower belly can be difficult to get rid of, even when strenuous abdominal workouts are employed, says Joseph DiBello, MD, FACS, a board-certified plastic surgeon in Philadelphia. He explains that a mini-abdominoplasty performed by a qualified plastic surgeon can firm and sculpt the lower abdomen, contributing to a much more toned and healthy-looking figure. At his practice, Dr. DiBello says he frequently utilizes the extended mini-abdominoplasty technique to provide his patients with exceptional results.
According to Dr. DiBello, mini-abdominoplasty is conducted similarly to a full, or traditional, tummy tuck surgery, but the main difference lies in the size and placement of the incisions. As the term "mini-abdominoplasty" suggests, the size of the incisions are considerably smaller than in a full abdominoplasty, and are made in the pelvic area. This allows for optimal removal of unwanted fat in the lower abdomen.
The incisions in an extended mini-abdominoplasty technique, Dr. DiBello states, are highly variable in size, depending on the body proportions and aesthetic goals of the patient. "The incisions are typically much smaller than in a regular tummy tuck," he continues, "and often result in minimal scarring that resembles a C-section scar."
During the procedure , Dr. DiBello tightens the muscles, removes excess skin, contours the area with liposuction, and closes up the incisions with dissolvable sutures. "This technique offers the full muscle tightening and umbilical reshaping of a full abdominoplasty," says Dr. DiBello, "with minimal scarring, as in a typical mini-abdominoplasty."
Dr. DiBello adds that while extended mini-abdominoplasty is a major cosmetic surgery, it typically warrants less recovery time than a full abdominoplasty. He considers the ideal candidate to be in good health, have minimal loose skin above the belly button area, and have reasonable expectations for the outcome of surgery.
About Joseph DiBello, MD, FACS
A renowned Philadelphia plastic surgeon, Dr. DiBello has dedicated his career to providing a warm, compassionate environment for each patient. In order to produce top results, he only performs procedures and utilizes techniques which have proven to be both safe and effective. He is certified by the American Board of Plastic Surgery, and is a member of several other prestigious organizations, including the American College of Surgeons, of which he is a Fellow. Additionally, he serves as the Chief of the Division of Plastic Surgery at Jeanes Hospital, as well as an adjunct Clinical Assistant Professor at the Department of Surgery at Temple University's School of Medicine.
For more information about Dr. DiBello, please visit drdibello.com and facebook.com/drdibello. Dr. DiBello is available for interview upon request.
Contact:
DiBello Plastic Surgery
2361 Huntingdon Pike, Suite 1
Huntingdon Valley, PA 19006
(215) 947-4990
Rosemont Media
(800) 491-8623
www.rosemontmedia.com
Previous Post
Next Post