What Is the IDEAL IMPLANT®?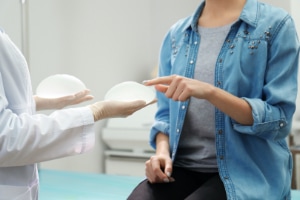 At DiBello Plastic Surgery, board-certified plastic surgeon Joseph DiBello, MD offers breast augmentation patients the option of using FDA-approved, IDEAL IMPLANT® Structured Breast Implants. This revolutionary device combines both silicone structure and saline filler in an innovative design to maximize aesthetic benefits and safety. The IDEAL IMPLANT consists of a series of silicone shells surrounding a structured, baffled saline core. This unique design provides the lasting shape and soft touch of silicone, with the superior safety profile of saline. Unlike silicone-gel filled breast implants, which come with concerns about "silent rupture" of gel into the breast pocket, the saline-filled IDEAL IMPLANT will not leak any silicone gel when ruptured (because it contains no silicone gel) and saline leaks are immediately apparent. Furthermore, the internal structure of the IDEAL IMPLANT helps to prevent implant wrinkling and folding that can cause cosmetic imperfections and potentially lead to rupture.
In June 2021, the maker of the IDEAL IMPLANT announced the release of its 10-year FDA Core Clinical Trial Data, which indicated that over ten years, the IDEAL IMPLANT offers a lower risk of both implant deflation/rupture and capsular contracture than silicone gel breast implants. For breast augmentation patients who are interested in getting "the best of both worlds," the IDEAL IMPLANT provides a compelling alternative to choosing between standard saline and silicone gel models. For Dr. DiBello, the release of the 10-year FDA Core Clinical Trial Data further supports the IDEAL IMPLANT as an optimal choice for many of his patients. Candidates for the IDEAL IMPLANT are often those who want the performance and natural feel of a silicone-gel implant, but are cautious of health and safety concerns. With the IDEAL IMPLANT, patients with this profile can feel confident they have made a breast implant choice that presents lower chances of complications and eliminates silicone-gel health risks, without compromising a beautiful, natural look.
If you are considering breast augmentation and want to learn more about the IDEAL IMPLANT, we welcome you to schedule a consultation with Dr. DiBello.
Previous Post
Next Post